Looking for a flexible work-study job where you can support your classmates?
Career Peers help other students with their application documents, create a monthly newsletter, complete special projects, and conduct outreach. We are now hiring work-study-eligible health science students for the fall. Watch our video below or visit the job description to learn more and apply!
What We're Talking About
March 24, 2023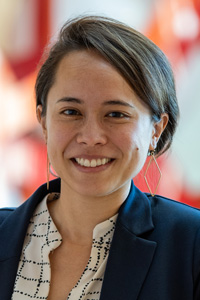 Linda Louie, PhD, the program director for career exploration here at the Office for Career and Professional Development has just published, "Strategies for Career Exploration in Uncertain Times," at Inside Higher Ed.
Louie, who relates her own experiences navigating career exploration when she was a grad student, offers four concrete strategies to avoid faulty assumptions and clearly examine the best options available.
Read the full essay, explore our resources for...
March 2, 2023
This winter quarter the Office of Career and Professional Development at UCSF piloted peer teams as a new way for students and postdocs to engage with each other through professional development. Seven peer teams kicked off in January and will conclude at the end of March 2023. With the success of this pilot and growing interest, peer teams will be offered again in the spring quarter.
Based on the peer team model developed as part of the award-winning Making INformed Decisions (MIND) program, peer teams were designed as small groups led by facilitators, which support their members in making significant progress toward a self-defined career and professional development goal. Students and postdocs in peer teams were supported with live kickoff and finale events via Zoom, weekly activities and prompts from the facilitator, and weekly check-ins about these activities via Slack. Peer teams were organized around three experience areas:
...
---
Featured from our Opportunities Board
Drug Discovery Fellow
Physical Therapist