Skills to help you to stay on track
We often encourage students and postdocs to take two professional steps whenever a significant development either advances or interrupts their previous plans. This isn't just good advice in the face of COVID, but for any situation, from winning a fellowship to your PI departing unexpectedly. Our recommended two steps are to:
Create, review and/or revise your (training/career) plan, and
To address the first issue, the training/career plan, we scheduled a How to Plan for Success During COVID and Beyond Workshop (registration now closed). If you missed it and need help wit your training/career plan, you can book an appointment with us!
So let's turn to the second point: how to approach and get buy-in from your PI. In counseling appointments and from what you've been telling us in recent Student/Postdoc Pulse Surveys, we note that many of you were trying to gauge what a reasonable level of productivity could be during a pandemic based on your specific personal and professional factors, and had questions about how to approach your PI for their support in staying on track.

Why can discussing your training/career goals with your PI seem challenging?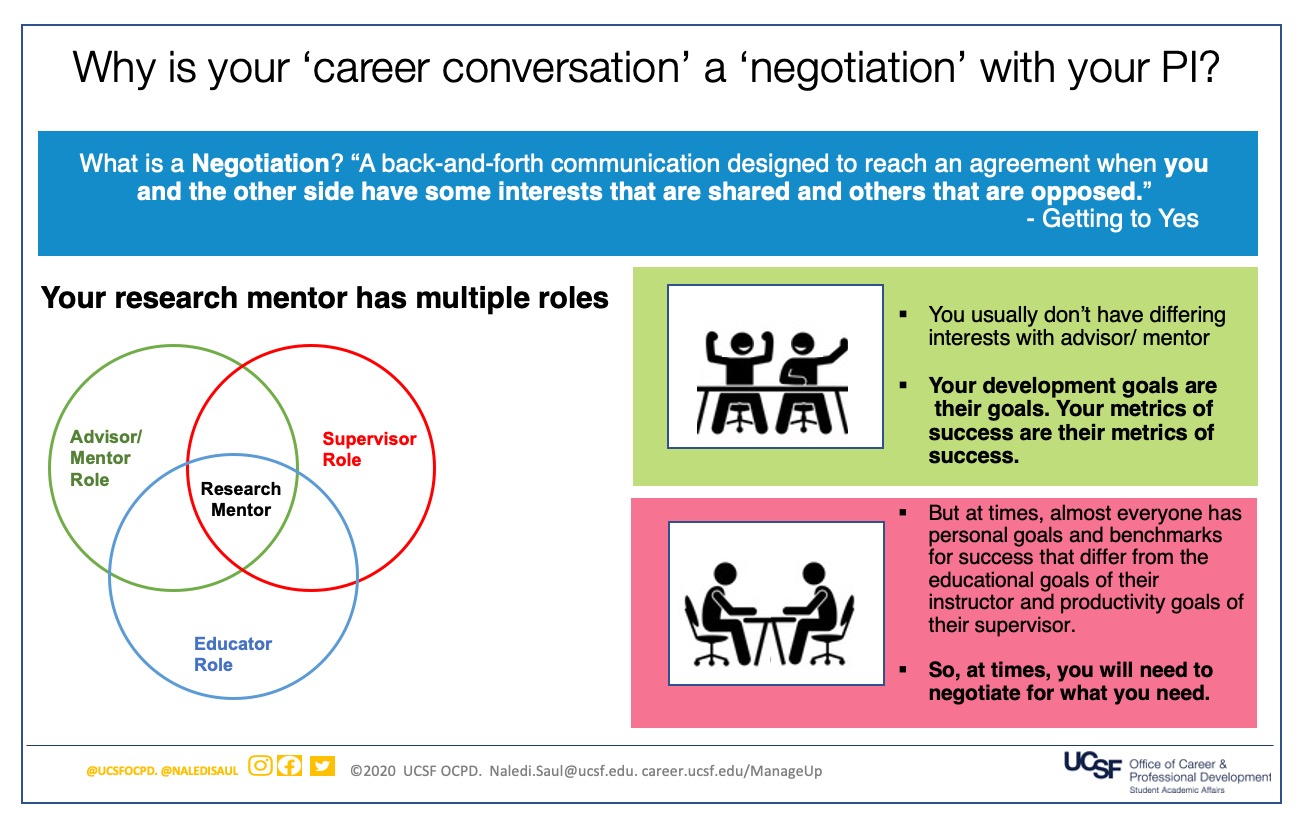 There are several reasons you may have questions about how to have this conversation with your PI:
You may feel you have not received clear signals from your PI that they would be open to having this conversation. (Sometimes this is a 'missed connection' - your PI may equally feel that they have been consistently sending signals that they are approachable).
 
You may not feel skilled in initiating or conducting a conversation/negotiation in general or be unsure of the professional etiquette to navigate this interaction.  Factor in the power differential between the two of you, and it may feel like the stakes are too high to 'get it wrong'.
Another reason this conversation may feel complicated is due to the fact that for many of you, talking to your PI is simultaneously:
a 'career conversation' with your mentor (who is interested in your development goals),
a 'training conversation' with your instructor (who is concerned with your education in the lab), and
a 'negotiation' with your supervisor (who is also responsible for taking the lab's productivity goals into consideration when making decisions). 
If these were separate individuals, your approach to these conversations, the level of candor you might display, and what you might expect from someone in the role might be quite different. Since your PI embodies all of these roles, we encourage you to view and engage discussions about your training and career goals/plans as both a conversation and a negotiation.  The following approach is one strategy to prepare and engage in a conversation professionally.  This preparation can help identify concerns, the type of support you will need as you navigate your training, and touchstones to keep the conversation on track.
 
Three steps to prepare for a negotiation/conversation with your PI
In a nutshell, managing any professional conversation/negotiation includes: 1) Prepping for a conversation, 2) Having the conversation, and 3) Managing next steps, post-conversation.
Step 1: Prep for the Conversation
Step 2: Have the Conversation
Step 3: What to do Post Conversation
STEP 3: Post Conversation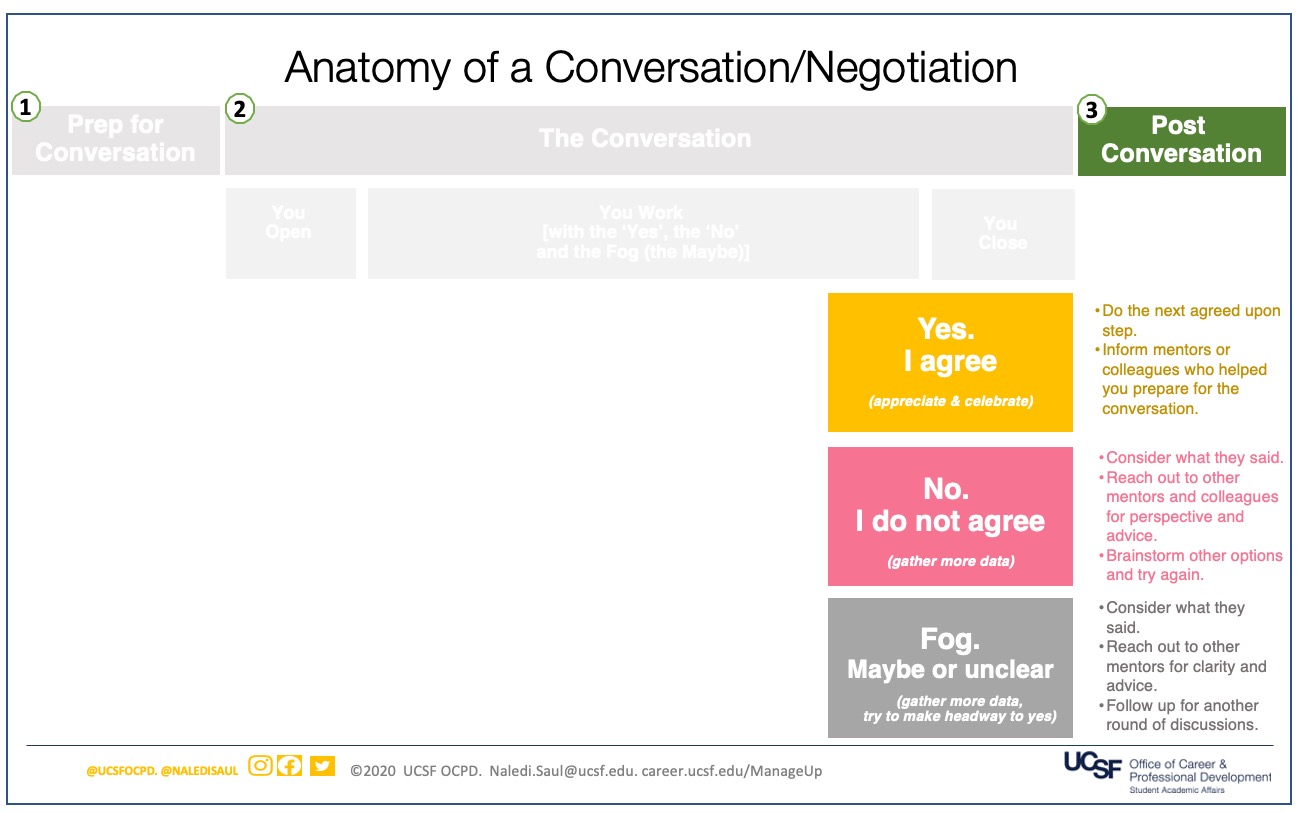 It is useful to think of professional interactions/negotiations as an ongoing series of engagements rather than a
single conversation. Each person may have received new information and need time to reflect on what they heard or what was requested.
For this reason, students and postdocs would be wise to define the first conversation's goal as "understanding or confirming your PI position to your request" and focus future conversations on actually negotiating toward your definition of a good outcome.
If your PI and you are in agreement, post conversation you focus on next steps and timelines.
If your PI says no, or you feel unclear about your PI's response, you are going to need to focus your conversation on gathering as much information as possible. That's because if you reach out to other mentors for clarification and support, they are going to ask about your PI's reasoning.
For example, in Finn's case, if their PI rejected their pitch to stay at home/work on their F31, it is likely that their other mentors (thesis committee members, undergraduate PI, Liz Silva, the Associate Dean for Graduate Program, another mentor, etc.) it is likely that they would ask questions like:
"Why did your PI say no?"
"What did they think that you should do instead?"
"Did they seem open to other options?"
"How did you leave the conversation?"
So, Finn would be wise not to try to further convince their PI or further defend their preferred outcome at this time, but shift to gathering information from their PI to have a productive conversation with other mentors later.

Want to talk about your situation?
Hopefully, this tutorial gives you an overview and ideas about how to prepare for and approach a conversation with your PI. Going through the steps of prepping for a  conversation/negotiation can also give you a sense of other key factors, such as when to have a conversation, how to best raise and have the conversation and whether or not to have a particular conversation with your PI (or if there is someone else with whom it might be more helpful to have a conversation first, such as other mentors).

If you want to brainstorm more strategies for your specific situation, need more help in understanding this process, or want to practice your approach, feel free to contact schedule with Associate Dean for Graduate Programs, Liz Silva (students), schedule with Assistant Dean Gabi Monsalve (postdocs), or schedule with one of the OCPD counselors (students, postdocs). We're here to help!
 
*Note: the example of "Finn" is a student archetype based on several OCPD counseling appointments and responses from the OCPD student/postdoc pulse surveys.