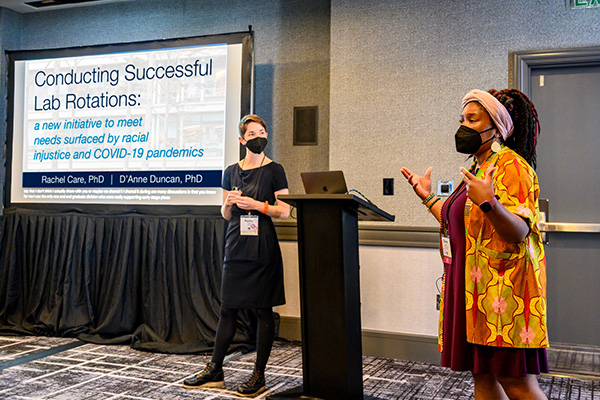 Ray Care, PhD, program director, PhD career and professional development, along with D'Anne Duncan, PhD, assistant dean for diversity and learner success, presented a member generated session deep-dive talk at the 2022 Graduate Career Consortium Annual Conference. The Graduate Career Consortium Conference brings together career development professionals working at the graduate level, from across North America to connect and share new ideas. The 2022 conference was held in San Francsico, July 5 to July 8.
Drs. Care and Duncan's talk entitled, "Conducting Successful Lab Rotations: a new initiative to meet needs surfaced by racial injustice and COVID-19 pandemics," focused on the collaboration between the Office of Career and Professional Development (OCPD) and the Graduate Division on an initiative to assist first-year students in UCSF's basic and biomedical science PhD programs as they navigated their lab rotations in 2020 and 2021. Discussion centered around the value of providing access to career and professional development support in the early stages of graduate training.
This collaboration has provided timely and targeted support to these students as they navigate their critical initial lab rotations during a time of unprecedented challenges. Through their joint efforts, Drs. Care and Duncan have engaged with over 50% of the 2020 and 2021 cohorts of UCSF first-year graduate students in basic and biomedical science PhD programs.
Students who participated provided feedback that the initiative supported their well-being, enabled them to center their own needs and values when choosing labs, and provided helpful guidance through this unfamiliar process. The Conducting Successful Rotations webpage, live program, and counseling services continue to support incoming cohorts of first-year lab-based students.