In this video series, we describe how to strategically position yourself as a competitive candidate for faculty positions. First, we introduce the types of faculty positions in the U.S., the basic elements of the application package and the steps of the hiring process. Then, we describe what faculty hiring committees are looking for in applications and how you can present your strengths in your application materials. We use the Academic Career Readiness Assessment (ACRA) Framework, a tool developed with the input from faculty members who have been on hiring committees at diverse types of institutions.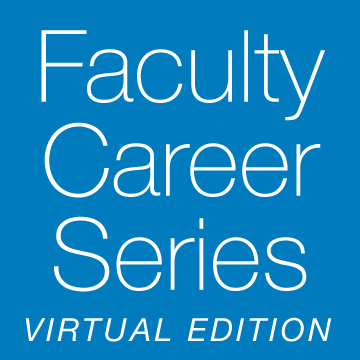 Want to meet peers going through this process, discuss this material, and ask questions?
Come to the workshop associated with this material! You can learn about all workshops that are part of Planning Your Faculty Career in 2021 by registering for the Faculty Career Series mailing list. UCSF MyAccess log-in is required.
Sign up to the Faculty Career Series Mailing List
Steps:
Step 1: Know your strengths and weaknesses as a faculty candidate
Step 2: Set up an effective search process for a faculty position
Step 3: Develop application materials that emphasize your strengths
Step 4: Get recommendations that confirm your strengths and address your weaknesses
Step 5: Get feedback on your application materials