Goal
To provide UCSF life sciences trainees with skills and experience in mentoring, including advising, supervising, and training, so they can support diversity in their research teams. Alongside this training experience, the program will provide both expert support and a peer community to resolve mentoring challenges, as well as recognition of the Fellows' work.
What it is
Up to ten graduate students and postdoctoral scholars will be selected in January 2021 to mentor an intern during the 2021 Winter and Spring quarters and become UCSF-CCSF Inclusive Mentoring Fellows. Fellows will mentor a CCSF intern who is training for a career as a laboratory assistant or technician, or who is planning to pursue a degree in the biosciences. This program is funded by a National Science Foundation grant awarded to the UCSF Office of Career and Professional Development (OCPD, PIs: Naledi Saul and Laurence Clement) in collaboration with City College of San Francisco (PIs: James Lewis and Karen Leung).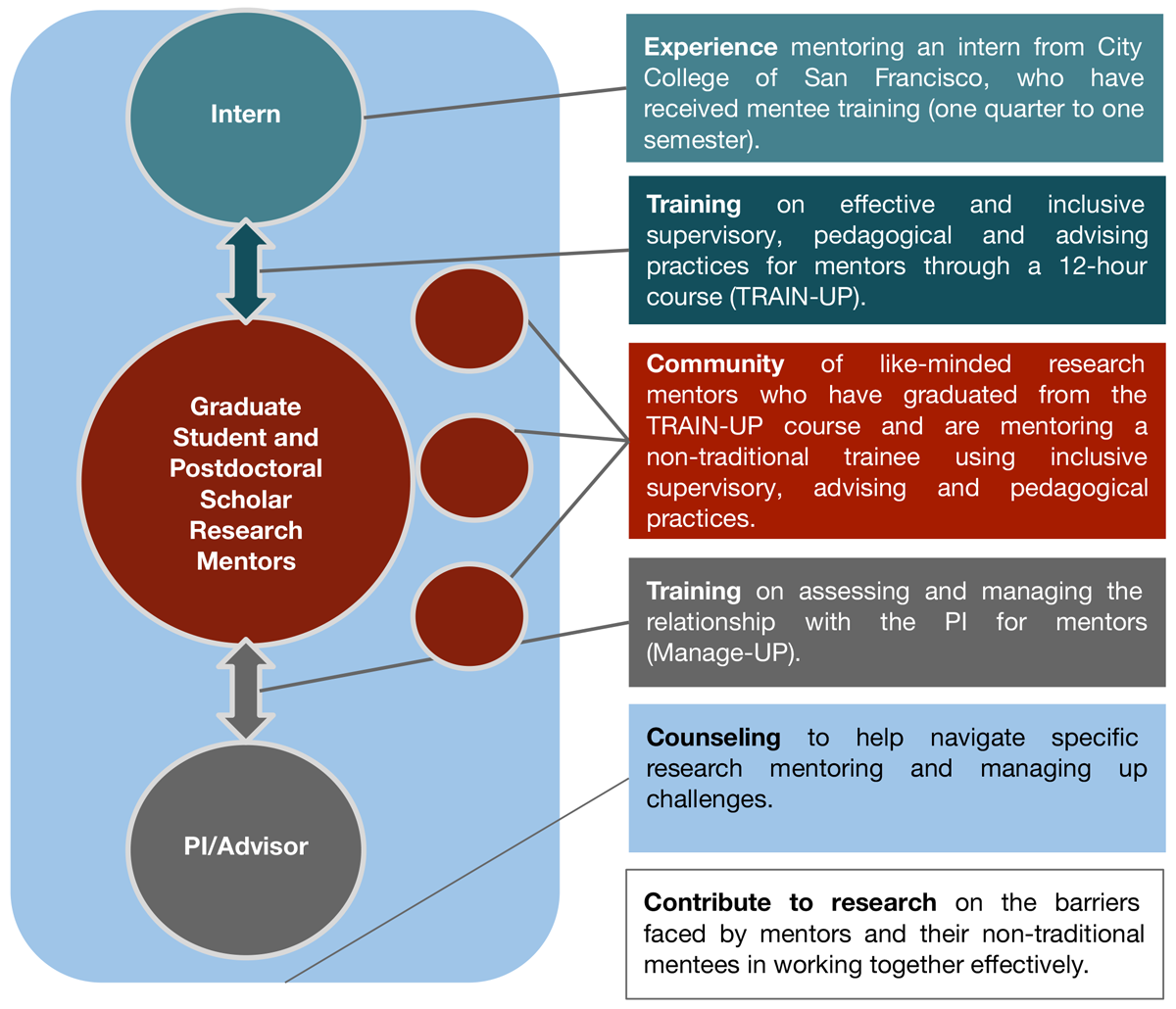 Benefits
Get recognition for your "invisible" work as an inclusive research mentor (supervising, advising and training mentees)
Gain experience, practice applying tools in inclusive supervision, advising and training practices for any research career in academia, government and industry
Get support navigating the responsibilities of a research mentor as a mentee yourself
Join a community of like-minded mentors
Contribute to research on barriers faced by mentors working with non-traditional mentees
Expectations
Host a City College of San Francisco (CCSF) Bioscience Intern (for 12 to 20 hrs/wk, for a minimum of 180 hours). 
Complete the Inclusive Research Mentor Course.
Participate in our research project on barriers faced by mentors working with mentees of under-represented backgrounds (complete surveys and participate in 1-2 hour interviews).
Attend occasional meetings with other mentors from the program or with CCSF/UCSF mentoring advisors (Naledi Saul, Laurence Clement, Karen Leung, James Lewis).
Application Process and Deadlines
Note: The Inclusive Mentor Fellows program is not currently scheduled, but mentoring opportunities may be available. If you are interested in mentoring a CCSF student, please email [email protected].
What is the City College of San Francisco (CCSF) Bioscience Internship program?
Interns are enrolled in the Bioscience Internship program, part of the CCSF Biotechnology Program. CCSF Biotechnology students are typically adults from diverse backgrounds (including some without any college degree and others with a  4-year degree or higher) who are training for a career as a laboratory assistant or laboratory technician, although a few plan to continue on to professional or graduate school. Bioscience interns follow a parallel curriculum to the TRAIN-UP training as part of an NSF-funded collaboration between UCSF and CCSF.
CCSF Bioscience Interns for Spring 2021 (January-May) can complete their internship either virtually, in-person or a combination of both virtual and in-person. Inclusive Mentoring Fellows are welcome to offer any or all three options for a Spring 2021 internship and may vary these options depending on the varying experience and education level of a given intern. 
Why is this important for a science career?
Developing advising, training and supervising skills will help you get started as a PI in an academic institution, or as a scientist in the industry.  In addition, experience mentoring students from diverse backgrounds is particularly valued by teaching-intensive institutions, where faculty members are expected to provide undergraduate research (UR) experiences for students (to find out more, visit our ACRA webpage). Because the students and technicians with whom you will work in your new lab may come from very different backgrounds than you or your UCSF colleagues, it is important that you develop these skills early on, as a graduate student and postdoctoral scholar.