Career Exploration Road Map
Most of us know we should spend time investigating our future career options, but we find a thousand reasons to delay. MIND's Career Exploration Road Map (copyright Jennie Dorman 2018, and updated as an interactive pdf in 2021) was designed to alleviate the stress and overwhelming experience of career exploration by breaking down the process into manageable and actionable steps shown in a gameboard-style schematic. The MIND Career Exploration Road Map has been featured in Inside Higher Ed and Science Careers.
Original 2018 Career Exploration Road Map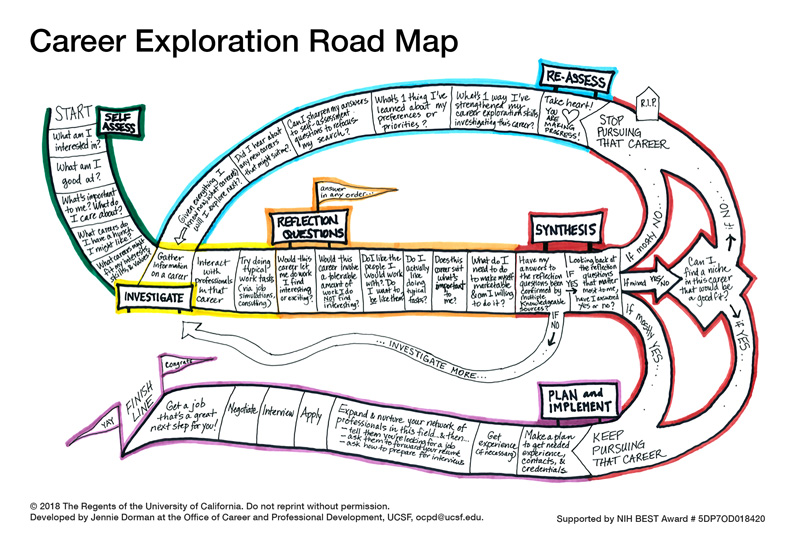 Recommended Activities for the using the original Career Exploration Road Map
Peer Team Model
We believe that career options should be openly and rigorously examined, and we wanted to reduce the isolation that often shrouds this subject. We also believe that a great deal of professional development can be attained simply by being a member of a close-knit group and witnessing, at close range, the experiences of others.
Peer mentoring groups are used extensively in the business world (where they are often called peer mentoring circles), and have been applied in academia and government to help participants reach many different kinds of challenging goals. The MIND program developed a peer team model to provide trainees with the support and structure needed to engage in career exploration over time. Over 60 volunteer facilitators have led 40+ peer teams since the program's inception. The MIND peer team model reflects years of experience and feedback from facilitators and participants. 
The Fantasy, The Ideal, and The Reality of Career Exploration
You might have a *fantasy* about getting to your dream career or have an *idealized* notion of what the process of career exploration looks like. The *reality* is that career exploration is often a messy and iterative process; it's also hard work! Bill Lindstaedt, of UCSF's Office of Career and Professional Development, has more than 15 years of experience working with students and postdocs. Here, he describes what career exploration really looks like.
This presentation was created by the UCSF Motivating INformed Decisions (MIND) Program, which was funded by the NIH BEST DP7 Common Fund award (5DP7OD018420-05).